Internet Travel Monitor - Marketing, Research & Tech
March 22, 2017
Study: Ads in Editorial Stream Beat Search, Social for Visibility and Recall

Ads in editorial were fully visible for 44 seconds vs. 6 seconds in search and 3 seconds in social.
Mobile brand agency Kargo has published a study that argues "premium editorial" digital environments are more effective for brand ads than search or social media. The findings are based on a comparative study of ad visibility and recall.

One hundred smartphone owners were exposed to "premium editorial, social and search content in a live in-market test." Participants were given "10 minutes within each environment to experience the content as they normally would in a use session." Eye tracking and post-exposure surveys were used to measure reactions and later ad recall. The research was conducted in partnership with Nielsen.

A single unidentified publisher's website was used as the editorial test site. Participants were exposed to their own social feeds, and a set of "cued search categories" was used to measure the efficacy of ad exposures in search results. It's not clear if the ads tested across channels were similar or the same.

The study posed three main questions:
1. How visible are ads in these different environments?
2. How many ads are actually seen by the human eye in each environment?
3. How well are ads in these environments remembered?


As indicated, editorial won, based on the totality of the data. Below are some top-level findings:
96 percent of mobile ads were "fully visible" (100 percent visible) in the editorial context vs. 79 percent on social feeds


Ads in editorial were fully visible for average of 44 seconds vs. 6 seconds in search and 3 seconds in social


Less than one-third of ads in social were fully visible for 2+ seconds vs. 82 percent in editorial


Consumers remembered in-stream ads in the editorial context more than ads in social feeds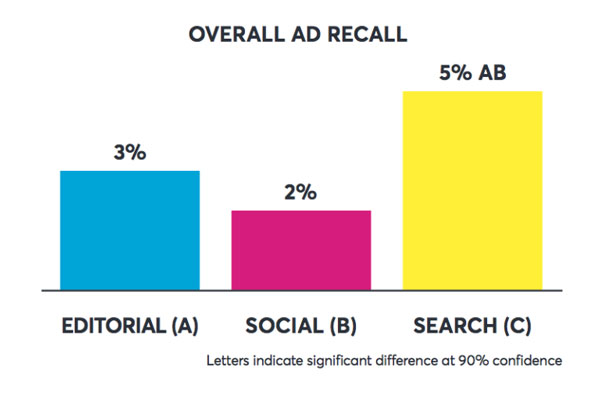 Study author Kargo argues that, "These premium [editorial] environments prove to deliver not only longer visibility times, but also the greatest efficiency when it comes to recall. It takes consumers less view time to remember ads delivered in editorial than it does in social or search."

Search had the strongest unaided overall recall. But editorial beat social, which seems to be the big takeaway from the study. Several other recall scenarios were tested, with somewhat different results, which is why the chart above appears to contradict the big findings of the study.

Finally, the study examined the impact of context on brand perception: "[B]rands that advertise in editorial environments are perceived as reliable, high quality, intelligent, and trustworthy. Meanwhile, brands advertising in social are associated with being fun, youthful and cool."