Internet Travel Monitor - Marketing, Research & Tech
July 26, 2017
New Study Reveals What Airlines Gain from a Better Customer Experience

Stock performance analysis from Watermark Consulting finds airlines get quite a lift by being good to passengers.
Airlines that deliver a great customer experience are rewarded over the long-term, by consumers and investors.

That's the conclusion from customer experience advisory firm Watermark Consulting, based on its analysis of stock market returns for airlines that lead in customer experience versus those that lag.

The analysis focused on model portfolios of the Top 3 ("Leaders") and Bottom 3 ("Laggards") publicly traded airlines in J.D. Power and Associates' annual North America Airline Satisfaction Studies.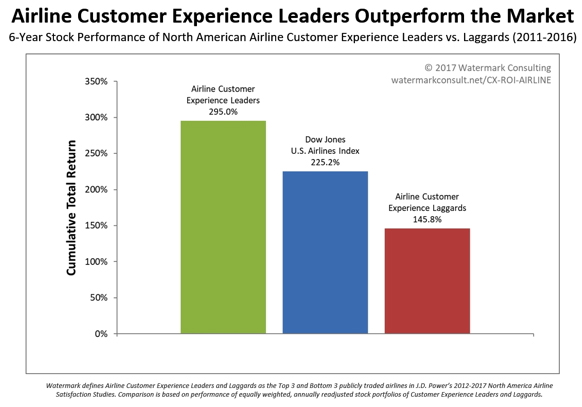 "While many airline executives publicly tout the importance of the customer experience, not many airlines back that up with tangible improvements," explained Jon Picoult, Founder and Principal of Watermark Consulting.

"Instead," he added, "these companies subject consumers to a variety of aggravations and indignities, from cramped seating to hidden fees to unfriendly staff."

The issue, noted Picoult, is that many in the industry view it as a highly commoditized business, where cheap fares carry the day.

"Price is no doubt important to air travelers," said Picoult. "But we suspected there were still ample opportunities for consumers to exercise choice, or at least influence others' choices via word-of-mouth."

The results of Watermark's study give credence to that hypothesis, with the fortunes of Airline Customer Experience Leaders and Laggards diverging in a dramatic and revealing way.

The Leaders outperformed the industry's market index, while Laggards trailed it. The performance gap wasn't small – over the six year period examined, Leaders delivered a total return that was more than double that of the Laggards.

Summing up the findings, Picoult remarked, "Even in the seemingly commoditized airline industry, the customer experience matters. The sooner airlines, like any business, recognize this and act accordingly, the more valuable their brand will become."
Copyright 2017 Watermark Consulting. All rights reserved. From http://www.watermarkconsult.net. By Jon Picoult.
To view the Internet Travel Monitor Archive, click
https://www.tripinfo.com/ITM/index.html.