Internet Travel Monitor - Marketing, Research & Tech
August 23, 2017
The Wi-Fi's Free...Though Costs Are Often Hidden

Consumers may be trading in their security for free internet access
While free Wi-Fi offers its users the convenience of mobile broadband, it also poses several security risks to consumers. According to online security firm Norton by Symantec, many who use public Wi-Fi are unaware of the security risks related to it.

The firm's June 2017 poll of internet users worldwide found that almost six in 10 had logged in to their personal email account over public Wi-Fi. And one-quarter admitted to checking their bank account or accessing financial information this way.



In addition, 17% of respondents had entered personally identifiable information—such as a social security number, address or birthday—over public Wi-Fi. And nearly as many (16%) had provided credit card details.

At the same time, more than half of respondents (53%) were unable to tell if a public Wi-Fi spot was secure or not. If on public Wi-Fi, these consumers are opening themselves up to a host of potential security problems, according to Norton.

US internet users were similarly guilty of failing to secure themselves against threats from cybercriminals and hackers.

For instance, 73% percent of US respondents did not use a virtual private network (VPN) to secure their Wi-Fi connections, which Norton described as the best way to protect personal information.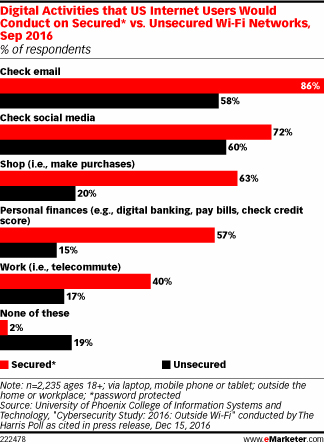 A separate September 2016 survey of US internet users from the University of Phoenix College of Information Systems and Technology found that respondents were significantly less likely to engage in certain online behaviors if on an unsecured Wi-Fi network. For instance, 63% said they would make a purchase over a secure network, while just 20% would do the same on an unsecured one.

Similarly, only 15% of respondents were willing to check their personal finances on an unsecured network, while 57% would do so on a password-protected one.

That gap narrowed for some activities where getting hacked might not do any significant harm to one's finances. For example, 60% would check their social media accounts on an unsecured network, not far behind the 72% figure for secured Wi-Fi.