Internet Travel Monitor - Industry News

September 12, 2018

Dangerous Category 4 Hurricane Florence to Blast Carolinas with Perilous Conditions for Over 24 Hours

Dangerous Hurricane Florence is on a path that will put millions of people at risk and threaten billions of dollars in property damage centered on the Carolinas beginning on Thursday and continuing through this weekend.

"A jump in strength to a Category 5 hurricane is possible Wednesday to Thursday, before some weakening may take place prior to landfall to end the week," according to AccuWeather Hurricane Expert Dan Kottlowski.

Even though Florence is moving swiftly to the northwest at this time, AccuWeather meteorologists believe that the hurricane will stall and meander near the Carolina coast from Thursday night to Saturday.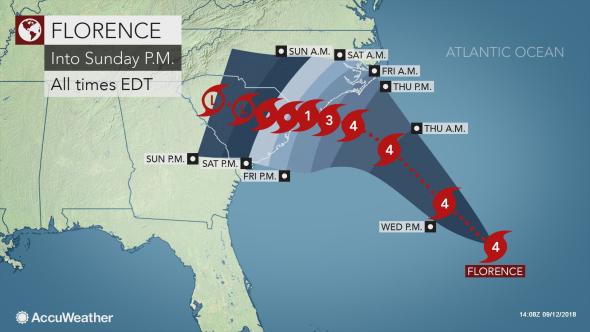 As this happens, coastal areas will be bombarded with torrential rain, high winds, coastal erosion and storm surge, not for a few hours, but possibly for a couple of days.

"There will be extensive damage inflicted by Hurricane Florence due to its predicted path, which is perpendicular to the coast, rather than at an oblique angle. This means the east and southeast winds on the east side of the storm are going to be most effective in driving storm surge flooding as the wind and waves pound the coast. That is one of many factors in why AccuWeather is estimating $30 billion in economic impact and damage from Florence," AccuWeather Founder and President Dr. Joel N. Myers said.

"While other sources are monitoring the intensity of the storm, AccuWeather emphasizes that although Florence will lose wind intensity as it approaches the coast and moves inland, we are focused on the overall impacts of the storm on people and their lives. The maximum damage from hurricanes is generally caused by flooding on land. Typically, the second most costly aspect of a hurricane occurs along the coast as an angry sea is driven inland due to powerful onshore winds, especially when there is a large fetch and particularly when a storm moves consistently and perpendicular to the coast. Following inland flooding and coastal damage, winds, on average, are often the next biggest cause of hurricane damage and economic costs," Myers said.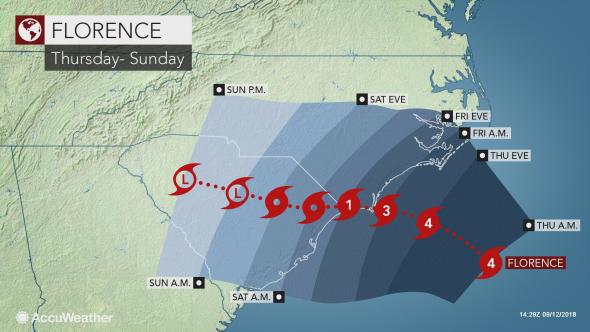 Help may not be available for days due to the dangerous conditions for those who choose to remain behind along the coast. Total inundation is likely in portions of eastern and southeastern North Carolina and perhaps the upper part of the South Carolina coast with a storm surge in excess of 10 feet in some areas.

Carolina coastline to be battered by hurricane conditions for more than 24 hours straight

The exact track, overall size and forward speed of the storm will determine which locations along the coast receive the worst of Florence's damaging winds, heavy rain and storm surge flooding.

At this time, a large northward drift along the coast is looking much less likely with Florence. However, a stall, meandering or loop near the coast is possible prior to a westward, southwestward or northwestward drift that would take Florence well inland.

"If Florence fails to move inland right away, it could remain as a hurricane or major hurricane much longer than usual, due to proximity to warm ocean water," Kottlowski said.

A very slow or meandering movement of Florence will translate to long-duration high winds, storm surge and demolishing wave action.

Florence may change the shape of the coastline in parts of the Carolinas, such as eroding some of the islands and carving new inlets.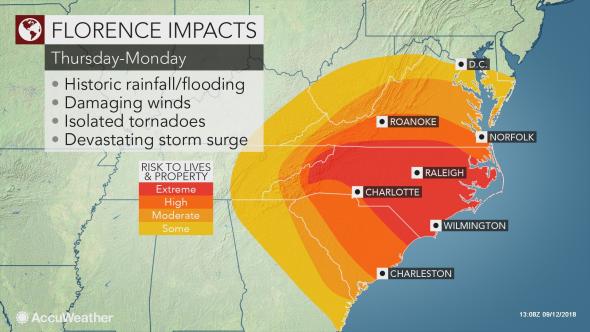 Some homes and businesses may be washed away on the barrier islands and along the immediate coast near the center of the storm and north of the storm center along the coast by dozens of miles.

Strong high pressure to the north is likely to enhance winds, wave action and coastal flooding farther north along the coast than what would normally occur.

As a result, people from southeastern Virginia to southern New Jersey could have damaging winds and significant coastal flooding, even if Florence hovers or moves ashore in North Carolina.

Regardless of whether or not Florence moves inland swiftly or stalls, dangerous surf conditions will extend as far to the north as southern New England and Bermuda and as far to the south as the east-central Florida coast and the northeast-facing shoreline of the Bahamas. Few, if any, lifeguards are on duty to come to the rescue after Labor Day.

Operators of small craft should heed all advisories that are issued and remain in port if necessary.

Larger vessels, such as cruise or cargo ships, may have to reroute their courses to avoid Florence's dangerous seas.

What will winds be like?

Wind gusts topping 100 mph are likely near and just north of where Florence approaches the coast.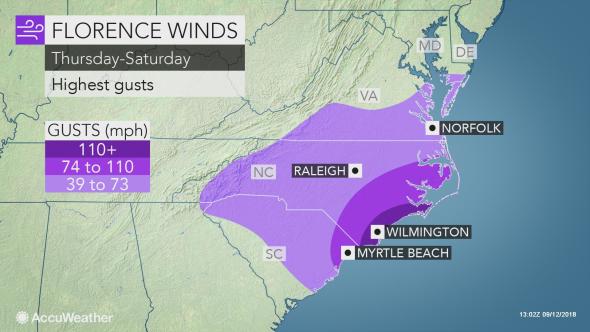 Long-duration winds of 55 mph or greater and saturated ground may cause a tremendous amount of trees to fall and lead to widespread power outages. Once the power goes out, it could be several days and possibly a week or more before electrical service is restored in some communities.

If Florence comes ashore as a Category 3 or 4 hurricane, then damaging winds and power outages may extend southward by 50 miles, inland more than 100 miles and northward along the coast by 200 miles or more. Damaging winds may extend as far inland as Asheville, North Carolina, Greenville, South Carolina, and Richmond, Virginia.

AccuWeather Local StormMax™ of 40 inches predicted

As has been the case with hurricanes in most recent years, such as Lane in Hawaii earlier this summer and Harvey last year in Texas, feet of rain can fall when these tropical storms stall.

That scenario has a high probability of occurring in much of North Carolina, a large portion of South Carolina and part of southern and central Virginia.

Given the likelihood of rain being measured in feet, rather than inches with Florence, widespread inland urban, small stream and major river flooding are anticipated in the Carolinas and southern Virginia.

A major natural disaster due to inland flooding will unfold slowly as Florence drifts inland and may linger for days and a week or more after Florence's eventual departure and/or demise.

What are the factors for Florence's track and forward speed?

The strength and orientation of an area of high pressure over the western Atlantic and later the Ohio Valley will be key to Florence's movement.

The clockwise flow of air will guide Florence on a steady northward track into Thursday.

This flow is forecast to weaken Thursday night to Saturday, which is likely to cause Florence to stall and meander.

Later this weekend into early next week, the flow around the high is forecast to strengthen, which should guide Florence well inland.