Internet Travel Monitor - Marketing, Research & Tech

September 19, 2018

4 Trends in U.S. Corporate Travel

Phocuswright has identified key insights into the solid and steady rise of the U.S. corporate travel segment in 2017, based on a combination of market sizing, travel spend estimates from U.S. supplier revenue, a travel manager survey, and industry executive interviews.

Helped by rising business confidence and innovations driving traveler behavior, the managed corporate segment represented about a third of the total U.S. travel market and reached US$119 billion in 2017.

Here are four trends Phocuswright analysts identified in the U.S. corporate travel segment:


Simplifying the travel program to make it easier for travelers to make the right choice and trust the process, including seamless integration of payment and expense.


The return of bleisure – extending business trips for a leisure stay to explore a destination is making a return on the agenda.


Virtual cards and digital wallets – but it will take some time before they're implemented on scale.


Shifting travel decision-making from marketing/procurement to the chief technology officer (CTO) – it's important to integrate a company's travel program with its enterprise resource systems to drive future decisions.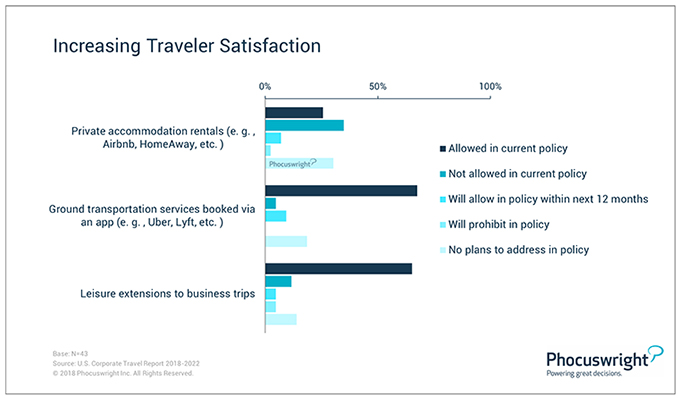 Despite the global economy's twists and turns and the possibility of a global trade war looming, the U.S. corporate travel market is expected to continue on its growth path.



Copyright 2018 Northstar Travel Media LLC. All rights reserved. From https://www.phocuswright.com.

Analyst: Phocuswright Research

To view the Internet Travel Monitor Archive, click

https://www.tripinfo.com/ITM/index.html.