Internet Travel Monitor - Marketing, Research & Tech

November 28, 2018

New Research Identifies Disconnects in Travel Program Goals, Policy and Traveler Behavior

Nearly 70 percent of travel buyers say that enforcing policy compliance is among the most challenging aspects of their job, according to new research out today from the Global Business Travel Association (GBTA) in partnership with RoomIt by CWT. While travelers may book out-of-policy for preferred properties or amenities, there is also a large gap in traveler knowledge of company policy.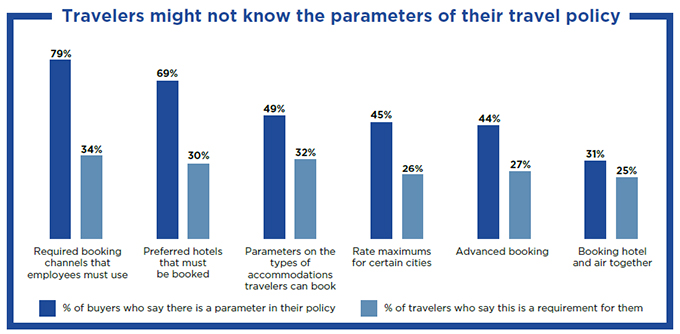 "Travel program goals can be difficult to reach when travel buyers and business travelers are not on the same page," said Jessica Collison, GBTA director of research. "The research identifies where disconnects exist between hotel policy and traveler behavior and provides buyers with areas they can focus on to drive increased cost-savings without necessarily compromising on traveler satisfaction. Ongoing communication to keep travelers informed on policy can go a long way toward achieving program goals."

"Business travelers want to find the right room in the right place with the right amenities – and stay within the rules set by their hotel program," said David Falter, President of RoomIt by CWT. "At the end of the day both the travel manager and traveler ultimately have similar goals to save money. Travel buyers can do so by offering travelers more choice and increasing compliance."

Property Levels & Amenities

Reducing program costs, increasing policy compliance and traveler satisfaction top the list of goals travel buyers have for their travel programs in 2019. Travel buyers typically negotiate with a variety of suppliers to provide their travelers with the best possible rates. While the vast majority (78 percent) of business travelers say they are satisfied with their rate allowances for booking hotels, two-thirds (66 percent) also say they would like a higher rate allowance to stay at preferred properties that may better meet their needs.

In fact, U.S. business travelers are more likely book luxury properties, potentially out of policy, according to the research. Only 7 percent of European buyers say they allow luxury properties in their hotel programs compared to 16 percent in the United States, yet on average only 8 percent of UK travelers and 7 percent of French travelers book luxury properties versus 30 percent of U.S.-based travelers. The trend of U.S. travelers booking luxury out of policy may be related to higher dissatisfaction with rate allowance.

Travelers want to use amenities that are not always included in their travel policy, leaving room for increased satisfaction. Over three-quarters of business travelers would prefer to book bundled rates including multiple amenities, even if the rate is slightly higher, however, very few (11 percent) travel programs always allow booking bundled rates. Travelers often book bundled rates with the belief that doing so ultimately contributes to cost-savings goals, although that may not necessarily be the case.

When travelers were asked which amenities they would purchase on business travel if they had no limits within their company policy, they cited several, including premium WiFi, gym passes and food delivery services.


Loyalty's Role in Booking & Satisfaction

The inability to earn loyalty points could drive traveler dissatisfaction. Nearly three-quarters (71 percent) of travelers believe that if they give up their time to travel, they should have the ability to earn loyalty points and over half (51 percent) would risk being reprimanded for booking out-of-policy if it meant they could book a hotel where they could earn loyalty points. Loyalty plays a significantly bigger role in the United States as 25 percent of U.S. business travelers say the ability to earn loyalty points is a factor in choosing where to book, and over half (52 percent) say they would never consider booking a hotel where they could not earn loyalty points. This compares to 37 percent in France and 31 percent in the UK.



Copyright 2018 Global Business Travel Association (GBTA). All rights reserved. From https://www.gbta.org.

By Marianne Varkiani.

To view the Internet Travel Monitor Archive, click

https://www.tripinfo.com/ITM/index.html.