Internet Travel Monitor - Industry News

January 16, 2019

Strong January Storm to Bring DEEP Totals for MLK Weekend

It's the heart of winter, and statistically, the snowiest month of the year. This year is no exception as January has already started with a good storm last week that delivered up to three feet of snow!

After bluebird conditions this past weekend, we have another storm on our doorstep. This system is parking itself off the Pacific coast and tapping into sub-tropical moisture.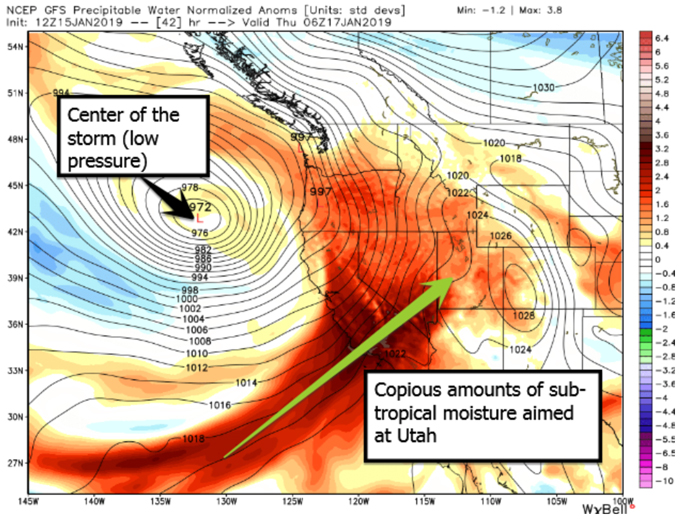 Because of this, we will see several waves of snow between now and the holiday weekend. The first wave has already pushed into Southern Utah. Brian Head Ski Resort and Eagle Point have received 3-6" of snow already with more on the way through Tuesday night. Northern Utah has also seen a few snow showers but will see snow increase Tuesday night into Wednesday morning. Wednesday has the potential to be a decent powder day.

The main push of this system will arrive on Thursday into Friday. The low pressure system (as shown above) will move across the Great Basin and into Utah. This will push a cold front through the state with temperatures dropping and leading to lower density snow – the type of light, fluffy snow for which Utah is famous. Not only will this storm produce several consecutive days of top-shelf ski conditions, but it will also be dropping A LOT of snow.

Forecasted totals thru Friday, January 18th: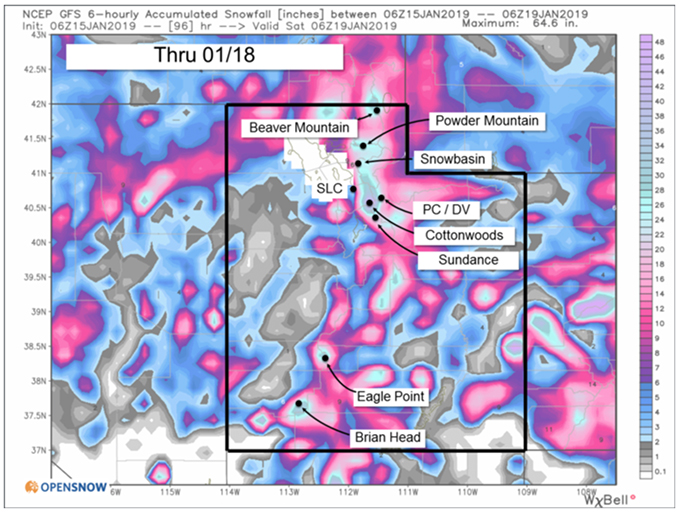 All Utah ski resorts should pull in at least 1-2 FEET of new snow by the start of this weekend, with some areas potentially seeing 30 INCHES or more! We will then clear out for Saturday and Sunday with bluebird conditions for skiers to enjoy the fresh powder.

Contained in all this new snow will be quite a bit of liquid which is great for our snowpack. Per the American GFS computer model, the high peaks of Utah could see up to 3" of liquid contained in all this new snow: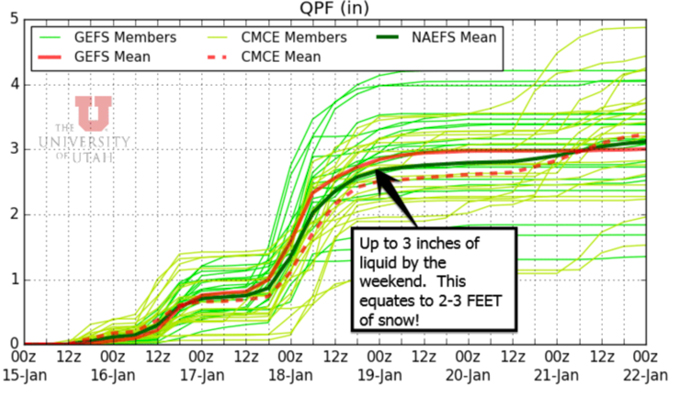 While generally, you don't think of liquid while you're skiing fluffy powder, it is the foundation of our snowpack. When the snow condenses long after the storm, this liquid will be beneficial in continuing to build a deep and lasting snowpack for the rest of our season.

Speaking of snowpack, when we look at Utah's snowpack, the numbers are looking quite healthy. Using Snowbird, in the heart of Utah's Wasatch Mountain Range, as an example, we can see that prior to this storm, we already sit at 103% of median snowpack. That means we are above average!

We are also running head and shoulders above last year's snowpack numbers. It is possible that after this upcoming storm, we could have 17" of Snow Water Equivalent in our snowpack. Last year, it took us until the last few days of February to reach that same level. That means we are running a month and a half ahead of last year in terms of snowpack!

Due to the existing deep snowpack and our imminent big storm, Utah is setting up for a perfect Martin Luther King Jr. holiday weekend. There is even a chance for a follow-up storm on Monday to close out the weekend.