Tips & Trivia
If You Like...Then You'll Love...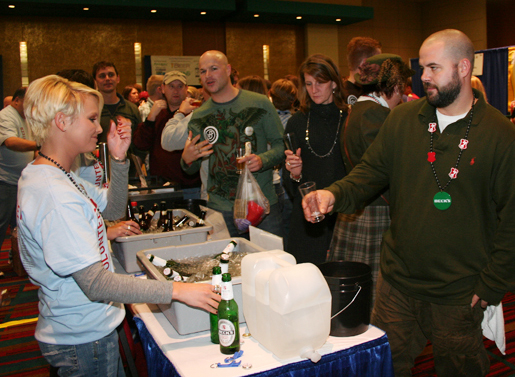 If you like Oktoberfest in Munich, Germany,
You'll love the World Beer Festival in Columbia, SC.

Can't make it to Germany for the 16-day Oktoberfest, started in 1810, running from late September to the first weekend in October? No matter! Make your way to Columbia, South Carolina in January for this year's 6th Annual World Beer Festival and a chance to sample over 200 craft and specialty beers from around the world.


If you like Cannes Film Festival in Cannes, France,
You'll love the Tribeca Film Festival in New York City, NY.

Although Cannes, with origins dating to the 1940s, may have a few years on Tribeca Film Festival, the New York City event has attracted more than 4.9 million attendees. Founded in 2001, the Tribeca Film Festival was a response to September 11th attacks. Jane Rosenthal, Robert De Niro, and Craig Hatkoff started the April film fest to celebrate New York as a filmmaking center and to contribute to lower Manhattan's long-term recovery.


If you like Running of the Bulls in Pamplona, Spain,
You'll love Bay to Breakers in San Francisco, CA.

Though San Francisco's Bay to Breakers doesn't require you to run for your life, it may be the run of your life. Beginning in 1912, this race is the oldest consecutively run annual footrace in the world. Bay to Breakers is a 12K, running from the northeast end ("bay" side of the city) to the west end and "breakers" of the Pacific Coast's Ocean Beach. Each May, join the tens of thousands participants whose skill level ranges from world-renowned runners to costumed fun-lovers.


If you like Wife Carrying Championship in Sonkajärvi, Finland,
You'll love the North American Wife Carrying Championship in Newry, ME.

This sport traces its roots back to Finland and a robber, Herkko Rosvo-Ronkainen, who was said to steal the wives of other men by grabbing them from the village and running away. Now, the sport is a regulated event with many evolutions in the "wife carrying" technique – piggyback, honeymoon style (held in front of the man), fireman's carry (over the shoulder), or Estonian-style (the wife hangs upside-down with her legs around the husband's shoulders, holding onto his waist). The winning couple in this race takes home the wife's weight in beer, five times her weight in cash and a chance to compete in the World Championship held in Finland. Check out the 16th Annual North American Wife Carrying Championship this October 10, 2015.