Internet Travel Monitor - Marketing, Research & Tech
February 22, 2017
Money Can't Buy Me Love: U.S. Consumers Loyal to Brands They Trust

Trust and respect for privacy mean more than discounts
Consumers are loyal to brands that respect their privacy, and that demonstrate their trustworthiness by safeguarding customers' personal information.

More than four in five US internet users surveyed in July and August 2016 by Accenture Strategy said that trustworthiness in regards to privacy is an important component of what makes them loyal customers—more so than any other factor.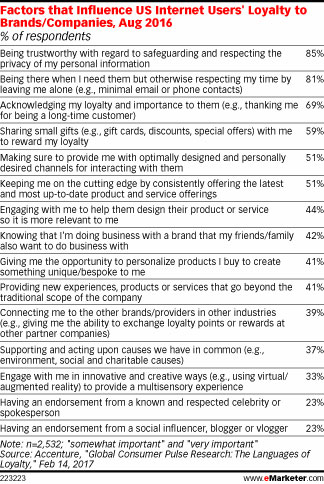 Consumers are also loyal to brands that respect their time. Roughly eight in 10 respondents said it's important that brands are there for them when needed, but otherwise want to be left alone and contacted only minimally.

Receiving gratitude for being loyal, or earning gifts and special offers from brands, is less important to people than privacy and respect for their time.

Just under 70% of internet users said acknowledgement is important to them, and 59% said the same about gifts and discounts. Personalization ranked even lower in terms of significance—roughly half of respondents said interacting with "optimally designed and personally desired channels" was important to them.

Overall, around two-thirds of internet users agreed that brands shouldn't be excessive in their retention efforts. More than half (58%) said brands should try to earn their loyalty, but shouldn't get "too carried away," according to Accenture.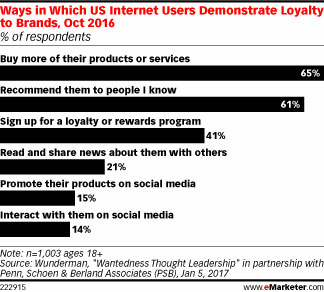 Once brands do find the right recipe for customer loyalty, they not only reap the benefit of repeat customers, but also gain exposure to their loyal customers' networks.

According to separate October 2016 research from Wunderman, 65% of US internet users demonstrate loyalty by doing more business with a company, and 61% recommend the company to people they know.

Four in 10 also said they sign up for a loyalty or rewards program to show their devotion to a specific brand, and 15% even promote the company's products on social media.