Internet Travel Monitor - Marketing, Research & Tech
May 10, 2017
What Keeps Advertisers Up at Night?

Here's a hint: they're increasingly concerned about viewability and ad blocking
According to new research, marketers have had concerns about viewability and ad blocking for some time—and these concerns have increased even more over the past year.

In March 2017, investment bank Credit Suisse polled 97 marketing professionals worldwide with an aggregate marketing spending of $21 billion. The survey asked respondents to look at their digital advertising budget across all of their territories, then express their level of concern about ad fraud, viewability and ad blocking.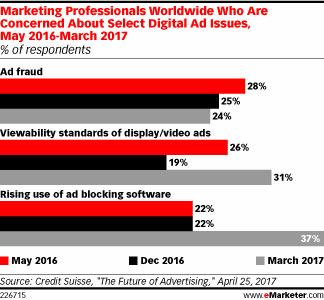 More respondents said they were concerned about the rising use of ad blocking software this year than almost a year prior.

In both May and December 2016, less than a quarter (22%) of marketing professionals worldwide were concerned about ad blocking. Fast forward to March 2017, and 37% now felt the same way.

Similarly, in March, more respondents (31%) said they were concerned about viewability standards for display or video ads than said the same in December 2016 (19%).

Concerns about ad fraud actually declined over the same time period. That's surprising, given that the ad industry's focus on fraud has intensified.

An April 2016 survey from content network MyersBizNet shows just how top of mind these topics are. Click fraud and bot traffic were some of the most-cited concerns about media planning and buying among US media agencies and brand marketers.

Viewability—which marketers are finding is increasingly intertwined with fraud—was also of concern.