Internet Travel Monitor - Marketing, Research & Tech
June 21, 2017
Mobile Drives Growth of Online Travel Bookings

Will account for 40% of US digital travel sales in 2017
As the summer travel season officially gets under way, a growing number of Americans will use their smartphones and tablets to book a trip, according to eMarketer's latest forecast on digital and mobile travel. This year, digital travel sales in the US will reach $189.62 billion, 40.0% of which will come from mobile devices.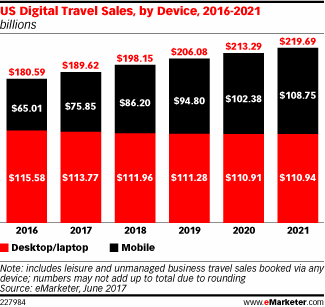 In its definition of travel sales, eMarketer includes airline, car rental, cruise, hotel, accommodations (including Airbnb) and transportation.

US mobile travel sales will total $75.85 billion in 2017, up 16.7% over last year. On the flip side, desktop and laptop travel sales will decline 1.6% this year to $113.77 billion.

Meanwhile, desktop/laptop's share of all digital travel sales will shrink to 60.0%. And by 2021, mobile will represent nearly half of all digital travel sales.

There are two important milestones to watch for in the coming years: By 2019, digital travel sales will surpass $200 billion for the first time, and by 2020, mobile travel sales alone will surpass $100 billion.

When it comes to booking travel on mobile devices, US adults are using smartphones much more heavily than tablets. This year, 57.5 million US adults will use a smartphone to book a trip, up 14.1% over last year. That represents 81.2% of all mobile travel bookers.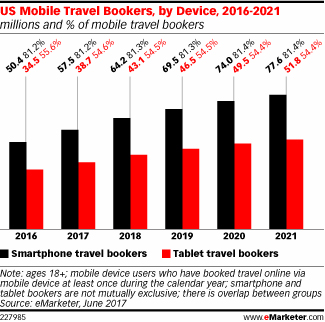 "Last-minute travel deals are helping to drive mobile sales, as consumers opt to book right away via their smartphones," said eMarketer forecasting analyst Chris Bendtsen. "Consumers are booking more travel on mobile due to larger smartphone screens, easier mobile payment methods and overall time spent habits shifting to mobile. Airlines, hotels and online travel agencies have made both apps and mobile websites easier to use."

US adults are not just booking trips via mobile, but they are increasingly researching trips as well.