Internet Travel Monitor - Travel Industry News
October 18, 2017
2017's Best Foodie Cities in America
Americans today liberally apply the term "foodie" to anyone who loves gourmet dining. But foodie culture isn't limited to restaurants. More importantly, far fewer than the many who claim to be foodies truly deserve the label. "Authentic" foodies, according to experts, not only crave new and different flavors but also savor the exploratory experience of eating, learning and discovering food.

Needless to say, the foodie lifestyle can be quite expensive, considering that restaurant prices alone have risen. In fact, Americans spent more money at food establishments than at grocery stores for the first time in 2015. Dining in can be comparatively more cost-effective — not to mention equally satisfying to the taste buds — but only to the extent that grocery-store prices have declined. Eating at home still can be pricey, depending on the local cost of living as well as the type and quality of ingredients used in preparing homemade meals.

Fortunately, culinary hotspots across the U.S. offer plenty of affordable options for cash-strapped epicures. These wallet-friendly cities cater to foodies who prefer to cook at home, explore the local gastronomy or both. To determine the best and cheapest foodie scenes, WalletHub's analysts compared more than 180 U.S. cities across 24 key indicators of foodie-friendliness. Our data set ranges from cost of groceries to affordability and accessibility of high-quality restaurants to food festivals per capita. Read on for the winners, expert foodie insight and a full description of our methodology. Happy eating!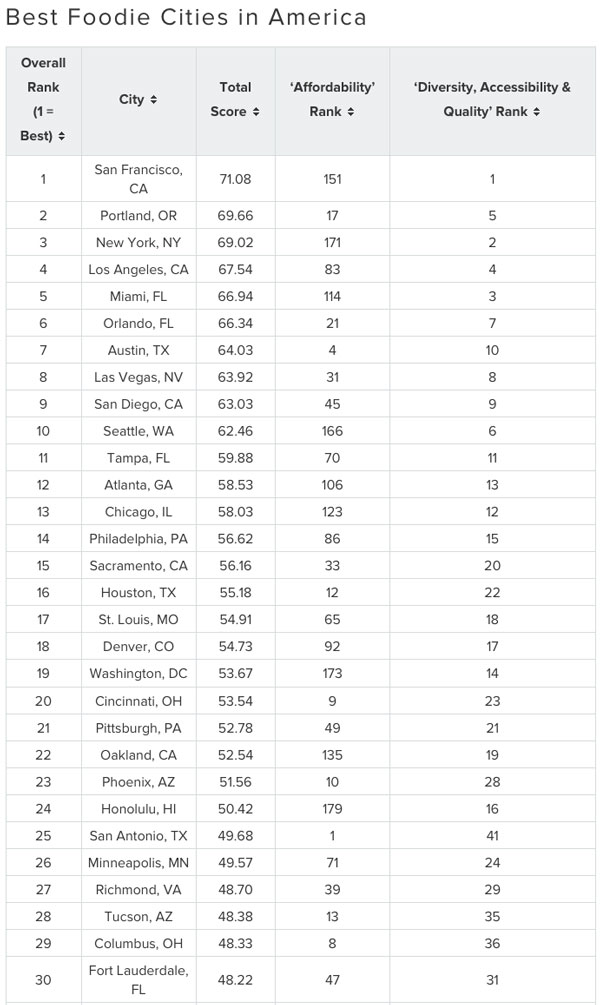 Copyright 2017 Evolution Finance, Inc. All rights reserved. From https://www.wallethub.com.
By Richie Bernardo, Senior Writer.
To view the Internet Travel Monitor Archive, click
https://www.tripinfo.com/ITM/index.html.