Internet Travel Monitor - Travel Industry News
January 3, 2018
TSA: Many Domestic Fliers Can Use Old Driver's Licenses Until Late 2018 and 2020
The TSA is giving different advice from signs that stated airport security changes would start Jan. 22, 2018.

Your old driver's license will still work on domestic flights until early October 2018 for many states and October 2020 for other states, according to the Transportation Security Administration.

But people with Louisiana, Michigan and New York driver's licenses could have travel plans interrupted if they don't have a passport for domestic flights and their state doesn't get an extension.

The changes are connected with new identification standards that are coming into place called REAL ID, which will eventually require people to have a new form of identification or an alternative for domestic air travel.

Travelers in December shared federal warning information to others. The signs said, "Starting January 22, 2018, you will need an alternative ID to fly if you have a driver's license or ID issued by any of the following states: Kentucky, Maine, Minnesota, Missouri, Montana, Oklahoma, Pennsylvania, South Carolina, Washington."

But those signs are being updated, according to the TSA.

Federal officials have been noting how many states are compliant with REAL ID law while others have extensions to do so.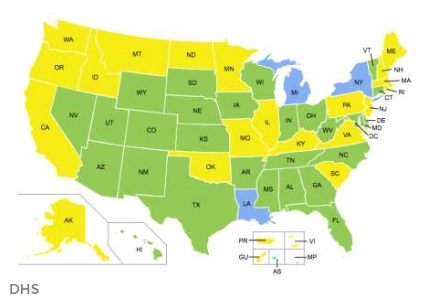 As of December 2017, yellow states have extensions and blue states are under review, according to the Homeland Security Department. Green states are compliant.

The DHS map lists some states in blue as under review, and old driver's licenses can only be used until Jan. 22, 2018 unless they get an extension, Transportation Security Administration spokesman Mike England said.

States that have extensions mean that people can use their old driver's licenses until Oct. 11, 2018, he said.

States that are compliant mean that people can use their old driver's licenses until October 2020, England said.

The purpose is to have states issue new licenses that meet the federal standards. Those "REAL ID" state-issued licenses can be used at airports, according to the TSA. States have been updating the licenses that they issue to meet the new federal standards.

TSA officials also said earlier in December that travelers may always use alternative forms of identification, such as a passport, military ID or permanent resident card. A fact sheet has listed other forms of ID that are also acceptable.
Copyright 2017 Hearst Television Inc. on behalf of KOAT-TV. All rights reserved. From http://www.koat.com. By David Taube.
To view the Internet Travel Monitor Archive, click
https://www.tripinfo.com/ITM/index.html.