Internet Travel Monitor - Worth A Thousand Words
May 9, 2018
Update on Hawaii's Famous Volcano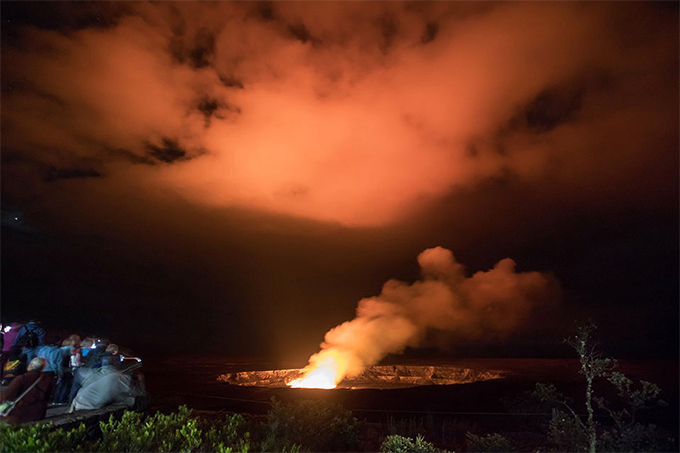 HAWAII NATIONAL PARK, HAWAI?I - Visitors at Jaggar Museum overlook on Sunday evening enjoy the glow emanating from the lava lake deep within Halema?uma?u Crater. Temporary new operating hours for the park are 7am to 10pm daily.
Photo courtesy of NPS Volunteer Janice Wei.

According to the National Park Service website, Hawai?i Volcanoes National Park on Monday announced that new operating hours for visitation will be 7am to 10pm daily until further notice.

In addition, K?lauea Visitor Center (KVC) has resumed normal operating hours, 9am to 5pm, and Jaggar Museum has resumed normal operating hours from 10am to 8pm The Hawai?i Pacific Parks Association stores within each facility have also resumed normal operations.

Hawai?i Volcanoes National Park partially reopened Sunday with limited services after a jarring 6.9-magnitude earthquake prompted a two-day closure and evacuation of park visitors and staff last Friday. Much of the park remains closed.

In addition to KVC and Jaggar Museum, the following areas are also open:

The outdoor overlook at Jaggar Museum
Sulphur Banks Trail
Steam Vents parking lot
Crater Rim Trail from K?lauea Overlook to Jaggar Museum only
The Entrance Station to Mauna Ulu parking lot
Mauna Ulu to Pu?uhuluhulu (N?pau Trail is closed past Pu?uhuluhulu)
K?pukapuaulu and trail
Kahuku will resume its regular Friday through Sunday schedule, 9am to 3pm.