Internet Travel Monitor - Marketing, Research & Tech
May 16, 2018
U.S. Digital Ad Spend Tops $88 Billion, 21% Gain Over 2016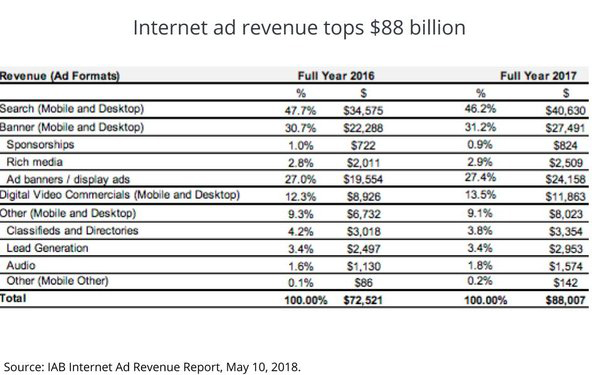 Digital ad spending set a new record in 2017 -- topping $88 billion, an increase of 21% from 2016, according to the just-released IAB Internet Advertising Revenue Report.

Much of the growth was fueled by the expansion of mobile usage and advertising.

Mobile now represents a 57% share of the total digital advertising pie in the U.S. marketplace.

Total mobile ad spending reached $49.9 billion in 2017 -- an increase of 33% from 2016.

Other highlights include:


Digital video hit a record $11.9 billion in 2017, a 33% year-over-year increase from $8.9 billion in 2016
On mobile devices, video revenue surged by 54% to $6.2 billion, representing the first time that mobile video revenues have surpassed desktop video
Social media advertising commanded $22.2 billion last year, rising 36% over $16.3 billion in 2016
Search revenues reached nearly $40.6 billion in 2017, up 18 percent from $34.6 billion in 2016
Banner advertising is up 23% to $27.5 billion, 67% of which is derived from mobile banners
Digital audio, measured for the second time in a full-year report, is up 39% to $1.6 billion from $1.1 billion in 2016
Copyright 2018 MediaPost Communications. All rights reserved. From https://www.mediapost.com. By Joe Mandese.
To view the Internet Travel Monitor Archive, click
https://www.tripinfo.com/ITM/index.html.