Internet Travel Monitor - Industry News

October 17, 2018

The Best Cities for Conferences in 2018

Between trade group meetings and professional development confabs, the American workforce attends a whole lot of conferences. According to the most recent data from forecasting company Oxford Economics, there are 1.9 million conventions, trade shows and meetings in the U.S. each year with a total of 251 million attendees. All that economic activity is a boon for cities that can make themselves alluring spots to host conferences. In particular, attractive cities are those that offer attendees affordable accommodations and entertainment while not crushing their savings. Ideal locations also include those that allow easy transport from the airport so attendees can preserve their budgets and maximize their networking time. Below we combine these and other factors to rank the best cities for conferences.

In order to rank the best cities for conferences, we looked at data on nine metrics. Specifically, we looked at data on the number of hotels, the number of medium-sized hotels, the number of large hotels, hotel costs, dining costs, the concentration of dining and entertainment establishments, the distance from the airport to downtown, airport travel time and the violent crime rate. Check out our data and methodology below to see where we got our data and how we put it together to create our final ranks.

This is SmartAsset's fourth annual study of the best cities for conferences. (See the full story and analysis here.)

Key Findings


San Antonio hangs on – Despite tough competition from San Diego and Orlando, San Antonio clung on as the top city for conferences. This means San Antonio has taken the top spot for four straight years.
Match your conference to the city – While San Antonio took the top spot, it does not mean every conference should be hosted there. If you are looking for a conference that is focused on business and the bottom line, Houston may be the best bet. If you are looking for a place for networking and having a good time and cost isn't your primary concern, consider New York or Las Vegas.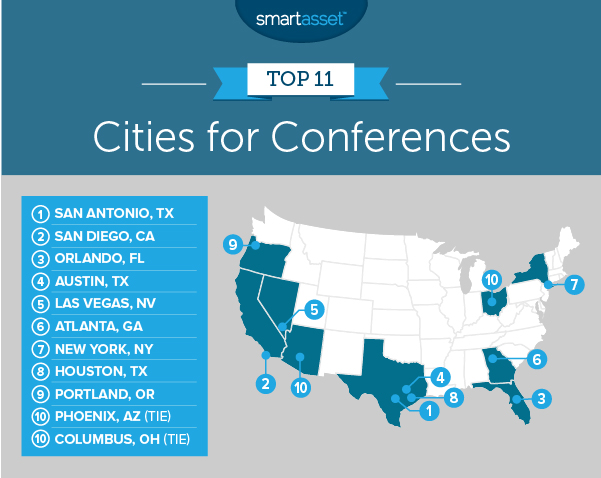 1. San Antonio, TX

San Antonio tops the ranks once again as the best city in America for conferences. The Alamo City has it all: plenty of hotels, along with lots of dining and entertainment options. And all of that is located in a city that won't break your savings account. This city ranks third for total hotels, 14th for dining and entertainment options and first for cost of a meal at a mid-tier restaurant.

2. San Diego, CA

Most conferences are not particularly long. That means any time spent in traffic getting to and from the airport can take up a significant portion of conference time, making cities that have an accessible airport especially enticing as locations for conferences. San Diego ranks well, because its airport is both close to downtown and easy to reach. This city ranks first for airport distance and fourth in travel time to airport. This city also has plenty of lodging options, including 18 large hotels making it a good location for larger conferences.

3. Orlando, FL

Orlando, of course, does not lack in hotels, especially large ones. Overall this city has 284 hotels, including 45 large hotels and 123 medium-sized hotels. Companies will appreciate the affordable hotels on offer here as well. This city ranks 11th for average cost of hotels. Conference attendees who enjoy going out after the main conference events are over will similarly appreciate the relatively low cost of restaurants. Our research shows a meal for two at a mid-tier restaurant costs $45, a top-five rate.

4. Austin, TX

Austin boasts strong scores in all metrics without blowing anyone away in any single metric. That makes Austin a good all-around option for conferences of all shapes and sizes. This city has 10 large hotels and 191 total hotels. Austin is also the sixth-safest city in our study, according to FBI violent crime data. Austin even ranks 10th for shortest distance from the airport to downtown. With all of those metrics in Austin's favor, it's not hard to see why it cracks the top 10.

5. Las Vegas, NV

If you're looking for somewhere fun to have a conference, it's probably hard to beat Las Vegas. This city, of course, is known for fun, and you can find evidence of that reputation in Census Bureau data. Dining and entertainment establishments make up nearly 7% of all establishments in the city. For that metric, Las Vegas ranks eighth. What's more, once you land in Las Vegas you won't have to wait long for the excitement and networking to start. Few cities have an easier airport to reach than Las Vegas. This city ranks in the top five for both airport distance and travel time to airport.

6. Atlanta, GA

Atlanta has plenty of hotels and would make a great city for conferences of just about any size. This city ranks ninth for total hotels and large hotels. The airport is also only about nine miles away. Our research shows the trip to downtown only takes 15 minutes. Atlanta is also home to the AMA Conference Center and the Emory Conference Center Hotel. In terms of fun, Atlanta does not rank as high as other cities in the top 10. It ranks 20th for dining and entertainment establishments as a percent of all establishments. However, conference attendees in Atlanta won't spend too much money on hanging out. The cost of a meal for two at a mid-tier restaurant in Atlanta costs $50, a fairly competitive price for this study.

7. New York, NY

The Big Apple comes in seventh. Blessed with plenty of hotels large and small, New York is home to some of the largest conferences in the world. In total, New York leads the way with 675 hotels, 53 of which meet the criteria for large. That means there is no shortage of places to stay or venues to host conferences in New York. As everyone knows, though, New York is expensive, including for hotels and meals out. New York ranks in the 40s for both cost of hotels and cost of a meal. Fortunately, though, New York does offer conference-goers plenty of ways to spend their money. More than 7% of establishments in New York are dedicated to entertainment or dining.

8. Houston, TX

Houston takes eighth. This city has a large number of hotels, but medium-sized hotels dominate the hotel industry here. Overall, Houston has just more than 550 hotels but only nine large ones. In those metrics, Houston ranks second and 13th respectively. Access to hotels alone is not enough to crack the top of this list. Houston also has affordable hotels – an average night at a hotel here costs $123.

9. Portland, OR

The Pacific Northwest's lone representative on this list is Portland. This city somewhat lacks in conference venues. Portland only has one large hotel and 79 medium sized hotels. In both of those metrics, Portland ranks among the bottom three for this list. Where Portland does shine is in the quality of the conference experience available to visitors. This city is one of the safest in the study, as well as one of the most fun. Portland is known as a great beer town and ranks sixth for dining and entertainment establishments as a percent of all establishments.

10. (tie) Phoenix, AZ

Tied for the final spot is the city in the desert, Phoenix. Like Portland ranked above and Columbus ranked below, Phoenix leaves a bit to be desired in the hotel department. In all three hotel metrics, Phoenix ranks no worse than 15th but no better than 20th. Where Phoenix beats the competition is in affordability and convenience. The airport is less than seven miles from downtown, a top-10 rate, and the average hotel room costs only $115 per night, another top-10 score.

10. (tie) Columbus, OH

Our list of the best cities for conferences wraps up in Columbus, Ohio. Columbus is probably not the best destination for the largest conferences, as it only has two large hotels. But it makes up for it with high scores in other metrics. In fact, outside of the lack of large hotels there is plenty to like about Columbus. This city ranks in the top 25 for seven out of the nine metrics we analyzed.