Internet Travel Monitor - Marketing, Research & Tech

January 2, 2019

Four Mobile Payment Trends to Watch for in 2019

Consumers will likely remain lukewarm on the technology


Mobile payments have been thought to be on the cusp of widespread adoption for several years now. But most US consumers have responded to the technology with a noncommittal shrug.

Here are four key trends you can expect out of mobile payments in 2019.

No. 1: Proximity Mobile Payment Growth Will Remain Tepid

Proximity mobile payments—those used at the point of sale—haven't quite taken off the way that payment platforms hoped they would. On paper, the idea of a consumer whipping out a smartphone, tapping it against a payment terminal and going on their merry way seems like a no-brainer. The reality has been a bit different.

Consumers have a variety of payment options to choose from like Apple Pay, Google Pay, Samsung Pay—not to mention the slew of retailer specific payment options offered by companies like Walmart and Starbucks. This fractured market, along with an inconsistent checkout experience, has left proximity mobile payments without a compelling reason for consumers to ditch entrenched payment methods like credit cards.

In 2019, a little more than one-quarter of smartphone users in the US will make a purchase using a mobile payment service at the point of sale. And by 2022, less than one-third of smartphone users will have made a proximity mobile payment.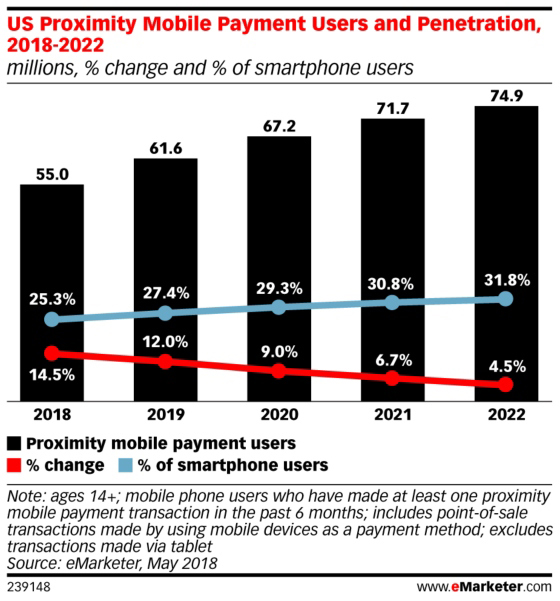 No. 2: But Public Transit Might Help the Cause

There are a handful of solid reasons for the case against dramatic proximity mobile payment growth. But one key way that consumers can become familiar with contactless payments is via public transit. Several major metropolitan areas in the US—including New York City, Chicago and Philadelphia—have either announced plans to install contactless payments at mass transit stations, or have already rolled them out.

These systems don't necessarily require or support the use of smartphones to complete transactions, but they can make users more conversant with tap-to-pay interfaces. The uptake of tap-to-pay cards in London's public transit system has been dramatic.

A report from Mastercard cited by Mobile Payments Today in December 2018 found that about 17 million trips per week on London's subways, buses and ferries were made with contactless payments, accounting for about 45% of all trips.

No. 3: Retailers Demand Loyalty

Even with all of the hurdles faced by proximity mobile payments, there are a few success stories. Some of the biggest can be found among retailers. eMarketer estimates that Starbucks will have more mobile payment users than Apple Pay over the next four years. Why? Because they've combined a habitual purchase with a loyalty program, giving daily buyers of a cup of coffee a reason to switch over from other payment methods.

Other retailers like Walmart, Target and Dunkin' Brands have adopted a similar approach to mobile payments by leveraging the power of loyalty and using mobile payments as a way to make the checkout process as painless as possible. Expect more retailers to follow in their footsteps.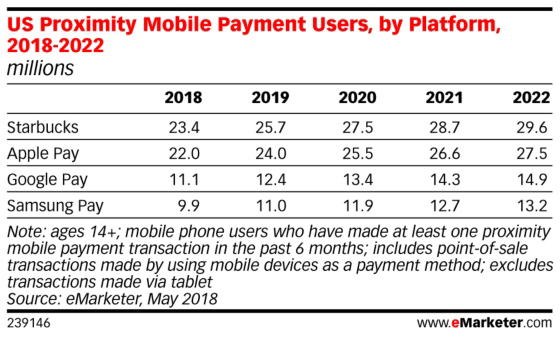 No. 4: Zelle Aims Squarely for Venmo

Much of the growth surrounding peer-to-peer payments (P2P) was born on the back of Venmo, the PayPal-owned property that famously includes a social sharing feature, which has found a strong user base among millennials. But Zelle, a competing P2P service that has the backing of several traditional retail banks, has quickly gained on Venmo.

In fact, eMarketer estimates that Zelle surpassed Venmo in user numbers in the US this year. We expect Zelle to widen its lead over Venmo over the next few years largely because it's an add-on offering that banks can present to their existing customers. Zelle's tight integration with existing banks also means it can sometimes process payments faster than Venmo, giving it another advantage.