Internet Travel Monitor - Industry News

March 13, 2019

Preliminary World Airport Traffic Rankings Released

Passenger traffic remains resilient but cargo hubs see volume growth weaken

India becomes world's third largest aviation market for passenger traffic

During the the 11th Annual Airport Economics & Finance Conference & Exhibition in London, Airports Council International (ACI) World published its preliminary world airport traffic rankings covering passenger traffic, cargo volumes, and aircraft movements

ACI has found that passenger traffic remained resilient in 2018 and is estimated to have reached 8.8 billion, growing by an estimated 6% as compared to the previous year. This increase is above the 4.3% compound annual growth rate for passenger traffic from 2007 to 2017.

The air cargo market did not fare as well as passenger traffic with a year-end growth figure of 3.2%. This is in contrast to a much stronger year of growth in 2017 but comes against a backdrop of global trade tension between the United States and several of its closest trade partners.

Passenger traffic at the world's 20 busiest airports – which represent 17% of all global passenger traffic – grew by 4.7% in 2018 as more than 1.5 billion passengers used these airports. Of these:


Atlanta-Hartsfield-Jackson Airport kept the top place and handled over 107 million passengers
Beijing Airport surpassed the 100 million passengers mark in 2018, growing by 5.4% and holding onto second spot.
Dubai Airport remained in third position as, after years of double-digit percentage traffic growth, it grew by 1%.
Total air cargo volume at the 20 busiest airports – representing 42% of all global air cargo volumes – grew a modest 1.3% as they handled a combined 51 million metric tonnes of cargo. This comes after a year where global cargo volumes rose markedly by 7.7% in 2017. Of these:


Hong Kong Airport remains the largest air cargo centre, handling more than 5 million metric tonnes of cargo in 2018 and its volume growing 1.4% against 2017
Memphis Airport was in second place with growth of 3.1%, and
Shanghai Airport was third, with a decline in cargo volumes in 2018 of -1.5%. Shanghai grew by 11.2% in 2017 but this decline shows that demand has softened.
The top 20 airports for aircraft movements grew by 2.4% in 2018. Chicago O'Hare Airport has surpassed Atlanta-Hartsfield-Jackson Airport to become the busiest airport in the world for aircraft movements. Both airports experienced slight declines in 2017 but have since recorded growth of 4.2% and 1.8% respectively.



Total Passenger Traffic - 2018 (preliminary)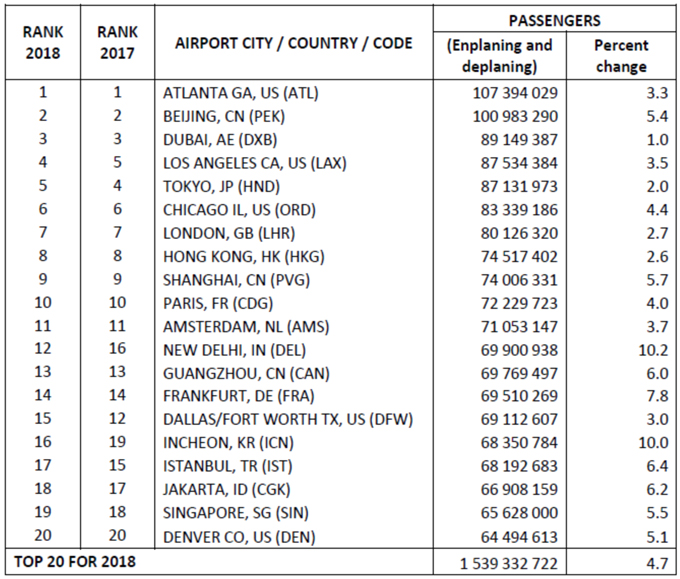 Total International Passenger Traffic - 2018 (preliminary)